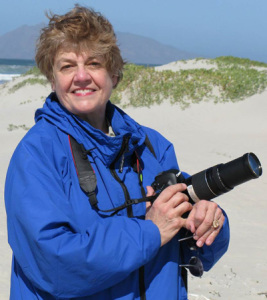 I'm a native-born New Yorker of European heritage — Greek and Slovak — who has had the distinct opportunity to document New York and other exotic places of the world through the "camera's eye." Photography is my passport to life, adventure and a broad variety of people from vastly different cultures. Main focuses are portraits, architecture, aerials, landscape, wildlife.
The city's architecture, its characters and events have been the inspiration for many of my feature stories which capture the brighter, positive side and sometimes sad, poignant side of New York City where I live, work and play.
As the first full-time female staff photographer with The Associated Press some story ideas which I originated are "The Restoration of the Statue of Liberty" over a three year period; "The Centennial Restoration of St. Patrick's Cathedral; "Building Equitable Tower" and "Huck Finn in Gotham." I've traveled with presidents, kings and superstars; photographed three Super Bowls – two summer Olympic Games in L.A. and Montreal. But, I still see the adventure to be photographed "in my own backyard." Subjects close to home continue to captivate me when I'm not photographing remote continents, and its endangered species and peoples.
I went on to be the Associated Press NewsFeatures Supervising Photo Editor through 1998. In this role, I directed photographers around the world on feature stories providing creative direction and motivation. I ultimately edited the film and supervised the photographic production stage for distribution to newspaper, magazine, and TV editors. I also interacted with writers and editors in search of ideas and original human interest stories.
Then as Special Projects/Photo Editor, I assisted the curator of The Photo Library and the directors of the electronic AP Photo Archive, doing editorial, photographic research and writing; photo edited layouts such as "The Twentieth Century" regarding historic personalities; a 5-part series "The Elements"and more in upgrading the historic AP Photo Archive.
I've exhibited my photography in several one-woman shows and group photography shows. I also photograph for "stock," shoot independent video, lecture; and collect found objects, fine art and old photographs. July 2009 I left AP to pursue my environmental projects on the Endangered — Species Indigenous cultures, and Natural wonders — with exhibitions, print sales, publication work, lectures and my website.